A FLASHBACK TO THE SIXTIES!!
MY ON-AGAIN-OFF-AGAIN AFFAIR WITH THE GUITAR.
The first types of guitar music I can recall hearing were a part of the local "Boeremusiek" (Afrikaans = literally "Farmers' music", the equivalent of Country/folk music), a part of American "Country & Western" music and recordings by American guitarist Les Paul - all heard on the "wireless" (radio) and on the 10-inch (25cm) "shellac" "78RPM" record disks available in those days (mid 1940s).

My (only) uncle on my Mother's side, "Boetie" Malan, played a bit of guitar and when, at the age of about 11 (1953) I was given my own guitar by my parents, he taught me my first chords. I think the photo below is the first photo taken of me and my guitar and was taken by my (late) Mom at Hartenbos (Mossel Bay) late December 1958 / January 1959.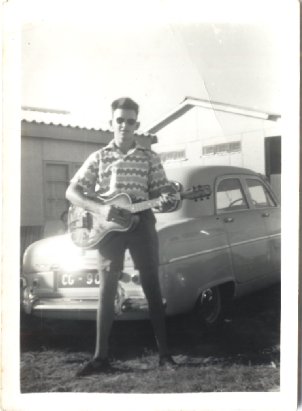 By that time I had also become familiar with the guitar sounds of Jazz guitarists.

The advent of "Rock 'n Roll" in this country late 1955/early 1956 opened up a whole new world of "sound" (some people would have said "noise"!) regarding the guitar. By 1958 Hank B Marvin, lead guitarist of Cliff Richard's backing group, "The Shadows" was one of the foremost "Rock" instrumentalists and Buddy Holly also had some really great guitar sounds on his records.

One of my school mates, Teddy Nicol, was a year ahead of me and I remember being SO envious when his Dad bought him an electric guitar!! Teddy could not really play guitar and would often ask me around to have me "play" his guitar - which of course I loved to do!!.

In 1958 I made the acquaintance of the records of American guitarist Chet Atkins - and have been a fan ever since!!

My first attempt at trying to be part of a "group" was in 1959. Two of my best friends, brothers Mellvyn and Norman Calitz (we started school on the same day) lived in the next road to me and their Dad bought them an electric guitar not long after that. (Sadly, Mellvyn passed away on 16th December 1996 in the then-Northern Cape Town of Hopetown.)

We started off with three cheap guitars - one being mine and the other two being borrowed - and after teaching them the chords and the "lead picking" for a few numbers, the line-up (photo below) was: Norman on lead guitar, me on "bass" guitar and Mellvyn on rhythm guitar. The photo below was taken around September 1959 in my backyard in Hopkins Street Parow - with Mellvyn looking by far the most "professional"!!.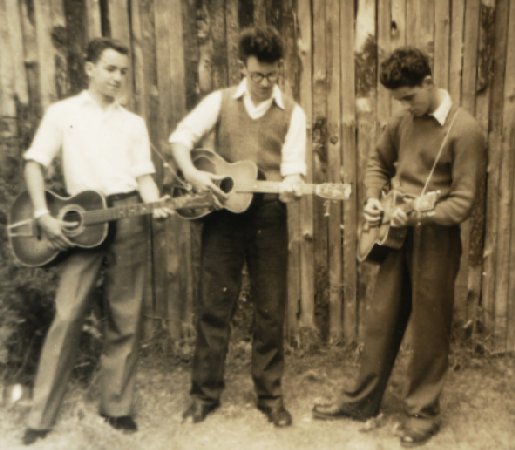 We played at a few braais held by friends and their families but for some reason the band thing just fizzled out. I took the following photos of Norman (left) and Mellvyn (right) with their electric guitar circa 1959 in their garage driveway.
The next photo is again of Mellvyn with their guitar and was taken (by me) in their driveway in Smith Street Parow and must have also been some time in 1959/1960.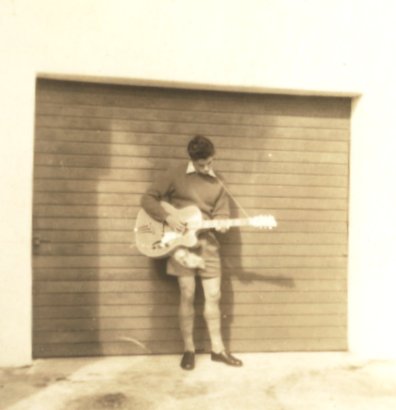 The next photo of me with my guitar was taken in our backyard at 14 Hopkins Street Parow sometime in 1960: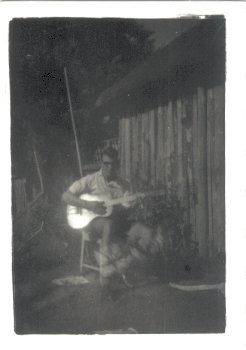 By this time I had also been introduced to the music of many Jazz guitarists - Johnny Smith, Tal Farlow, Herb Ellis, Barney Kessel, Charlie Byrd, Wes Montgomery - and the Classical guitar playing of Andres Segovia and Narciso Yepes. I had also become fascinated by South American groups and even more so by Flamenco Guitar music.

My first "real guitar combo" was a "solid-body, single-cutaway Les Paul Gibson" electric guitar and a "Les Paul Gibson Amplifier". The picture below, taken in 1963 in my flat in Kenilworth by my late Mom, shows me with the guitar, with the amplifier on the table behind me in the photo. By then I had taken some lessons with (the now late) Gerry Bosman in his studio in Radio House, Loop Street, Cape Town.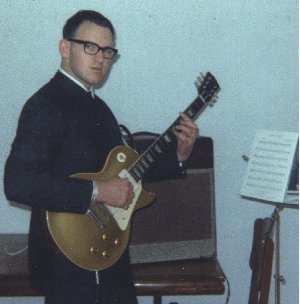 The next photo below was taken in 1963/4 by a friend, Hennie Oosthuysen, in Oostersee, Parow: I'm sitting playing a Spanish guitar belonging to his wife Rina - the guitar was smaller than the normal-sized guitar.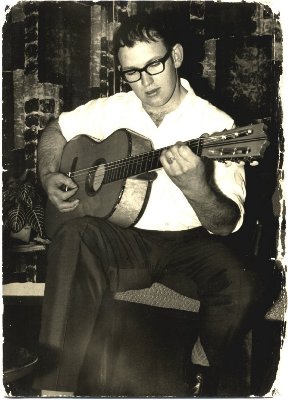 This next two photos were taken by my brother Terry circa 1970 in our yard at 10 Northway, Pinelands: I have NO idea whose guitar I'm holding but I do recall that it was a steel-string guitar and was rather "beat-up".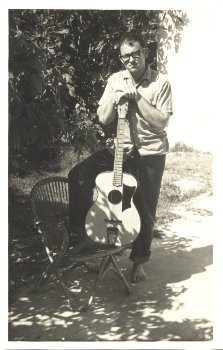 I never did form a "real" band but on the odd occasion did get involved with at least 3 people who were playing seriously - some sketches of those times can be read by clicking on the following "links":
The Bernard-Trevor Era;

The Avril-Bernard-David Era;

The Bernard-Bruce Era


(format is mm/dd/yyyy)